We have it all!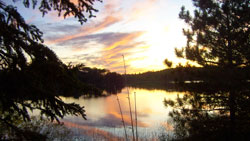 In early years, there was a small community called Elizabeth located just one mile away and is still called Elizabeth on any topographic or railway site explanations. The entire system's water flows originate north of Thunder Bay, ON and flow southwest to Rainy Lake, Lake of the Woods, Winnipeg River System and eventually north to the Arctic Circle.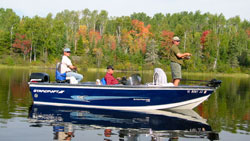 Join us on your affordable Ontario fishing vacation this year. Fish over 30 miles of adjoining lakes in the Seine River system near Atikokan, Ontario. Trophey Northern Pike like you'll never believe, abundant gourmet Walleye, and Yellow Perch await.
We specalize in tailoring your vacation to you and your group. Our resort is close enough to drive, yet isolated enough to feel like you're at an outpost. A great family destination, we also offer large group rental units.
Take in the Early Pike Fishing Special from May 1st to 21st and save 20% off regular cabin rental rates.
Book your vacation today! We offer the following:
Housekeeping cabins, large group accommodations, private docks, satellite TV, air conditioning
30 miles of adjoining lakes and narrows
Fish for various species (walleye, northern, small mouth bass, perch, crappies)
Freezers, fish house
RV sites and Campsites
Boat and Canoe Rentals
Winter Ice Fishing, Snowmobiling, Get Away Destination
Great Deer, Moose and Smallgame Hunting
Housekeeping Packages or plan your own package
Room and Board Packages (contractors, railway, exploration groups, etc.)