Winter at Marr's Perch Lake Lodge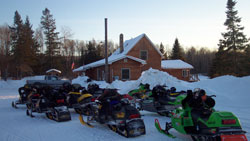 Get away from the congestion of your trail system and enjoy the peace and tranquility of ours. Hundreds of miles of groomed trails just waiting for riders. Many enjoy the ride from Northern Minnesota and arrive at Perch Lake Lodge, just 70 miles, and either stay the weekend. We provide gas, lodging and while you're here take a day trip up to view the majestic White Otter Castle or a two hour ride to Ignace. We have new 2 bedroom or 3 bedroom heated winter cottages, complete with satellite TV and WiFi. Discover the stunning scenery of the Canadian Shield while touring the area snowmobile trails. Enjoy miles of lake and trail riding, cross-country skiing or snowshoe nature treks. Perch Lake Lodge is located on the new L601 trail (formerly called TOPS 'D' traill. We are only 15 mi. from Atikokan and you have direct access to Fort Frances, Ignace, Crane Lake and the Minnesota snowmobile trail system.
CALL FOR SPECIAL WINTER PACKAGES AND RATES.
Quetico Circle Snowmobile Tour
Welcome Visitors from the U.S!
There are a few things you need to know about entering Canada from the U.S. We maintain two trails that connect Canada and the USA, the L901M and L902M trails, they are indicated on the Northwest Ontario Snowmobile Trail Map. If you plan to enter Canada using either of these trails, you will need to obtain a Remote Area Border Crossing Permit from Canada Customs and Immigration. There is a U.S. customs office at Crane Lake, MN (accessed by L901M). Upon entering the U.S.A. at Crane Lake you must show documentation that supports your citizenship. You do require a passport to re-enter into the U.S. via Canada.
If you choose to trailer your sled to the U.S/Canadian border, your entry point into Canada is International Falls in Fort Frances. There are video phones at International Falls as well, here you must show documentation of your citizenship, therefore have your pieces of identification ready.
Please visit: Canada Border Services Agency for more information.
If you require any further information about our club, permits, trails or the circle tour please contact us at any time. We would be happy to assist in your trip planning to our area.
Enjoy the ride and happy trails.
Welcome to Canada!
Canadian RABC
(Remote Area Border Crossing)
The CANPASS -- Remote Area Border Crossing (RABC) permit (direct application form download), a joint initiative of Citizenship and Immigration Canada and the Canada Customs and Revenue Agency, allows the bearer to cross the border into Canada at certain remote areas without reporting to a port of entry, as long as imported goods are declared.
The permit is valid at the following locations:
From Pigeon River through to and including Lake Of The Woods
The Canadian shore of Lake Superior
Cockburn Island
Fees: $30.00 Canadian per Application
Snowmobilers must re-enter the United States through customs at Crane Lake, therefore the tour must be completed in a counter-clockwise direction.
Circle Canada's Quetico Provincial Park and the famed U.S. Boundry Waters Canoe Area for the Ultimate cross-border snowmobile adventure. A five day trip will take you over 400 miles of pristine wilderness and perfectly groomed trails. We invite you to stay with us. Want to know more, call us at 1-888-737-2455 or visit our local snowmobile club, the Atikokan Sno-Ho Club website at www.atikokansnoho.com
Spend a Day Ice Fishing for a Trophy Catch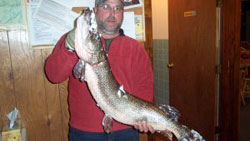 Great winterized cabins will make your ice fishing trip ...oh! so memorable. Units are fully equipped including satellite television, WiFi, open concept kitchen and living room, large tables to play your favorite card game, all appliances and linens. Check out our great winter rates. Sled from Perch Lake Lodge to nearby trout lakes; or tour some of our rugged trails to remote lakes for northern, walleye or trout. Trailer your sleds to some of the more accessible lakes. Best fishing for walleye is in March when the waters warm up a bit and walleye start moving upstream to spawn. Trout fishing opens January 1st of each year.
While spending time with us you will be able to see mother nature at her finest when you catch the display of the Northern Lights that are common on winter nights. Winter in Northwestern Ontario offers a wonderland that simply is not available anywhere else. Enjoy many lakes to ice fish accessible by snowmachine and/or vehicle.