Fishing @ Perch Lake Lodge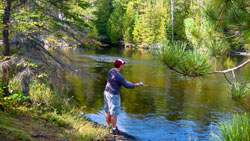 Perch Lake is one of many lakes that make up the Seine Chain of Lakes. With over 30 miles of water to explore, (from depths of 5 to 80 feet), one can travel to several lakes without getting out of their boat. Excellent habitat for walleye, trophy size northern pike, the largest smallmouth you'll ever see, and of course perch. We have seen a growth in crappies during the last few years as well.
Perch Lake – about 1 ½ miles wide by 6 miles long – we are second largest in the chain.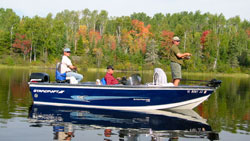 Perch Lake has great fishing for all species - one of the most popular spots is the mouth of Tracey Rapids where the water pounds into the Seine Chain from upstream waters such as the Floodwaters & Lac Des Milles Lacs. Casting into the moving water in the early season can be a very rewarding endeavor. The Eye River is just close by; some of our guests have had great luck with early walleye and northerns in the spring. You can even go up the river to where you'll find a small rapids. A beautiful view. By mid-summer, the weeds fill in.